AJAX IS MORE THAN A CLUB; WE ARE A FAMILY! 
AJAX PREMIER is a competitive 11-month premier program. The club philosophy is centered around player development.
Leszek Wrona, our founder, had his first AJAX team in 1996, before officially establishing AJAX PREMIER in 1999. 
AJAX PREMIER
AJAX PREMIER is centered around player development. Training sessions will focus on teaching each player the fundamentals of the game, receiving, dribbling, passing, and shooting. Our coaching staff will teach your children the skills to become a master with the ball and help them understand the simpleness of the game which are designed to help them reach the next level. Your child is expected to attend all training sessions and matches. Matches will provide them an opportunity to showcase the skills and knowledge they learn in training. We offer a competitive program with a challenging soccer environment that will help your child attain their soccer goals and will develop them as a player and person on and off the field.
Interested in joining a team?
Tryout Registration for the 2023/2024 Season is closed.
We are currently looking for players in the following birth years:
BOYS:
2007 – Field Players
2009 – GK & Field Players
2011 – GK & Field Players
2013 – Field Players
2016 – Field Players
GIRLS:
2012 – Field Players
2009 – GK and Field Players
If you are interested in joining AJAX Premier
Contact Alex Wrona at alex@wronasoccer.com.
AJAX ALUMNI
Where are they now? See where some of our AJAX PREMIER Alumni went after graduation. View here.
BOYS
U-8 (2016)

U-9 (2015)

U-10 (2014)

U-11 (2013)

U-12 (2012)

U-13 (2011)

U-14 (2010)

U-15 (2009)

U-16 (2008)

U-17 (2007)

U-18 (2006)
GIRLS
U-12 (2012)

U-13/14 (2011/2010)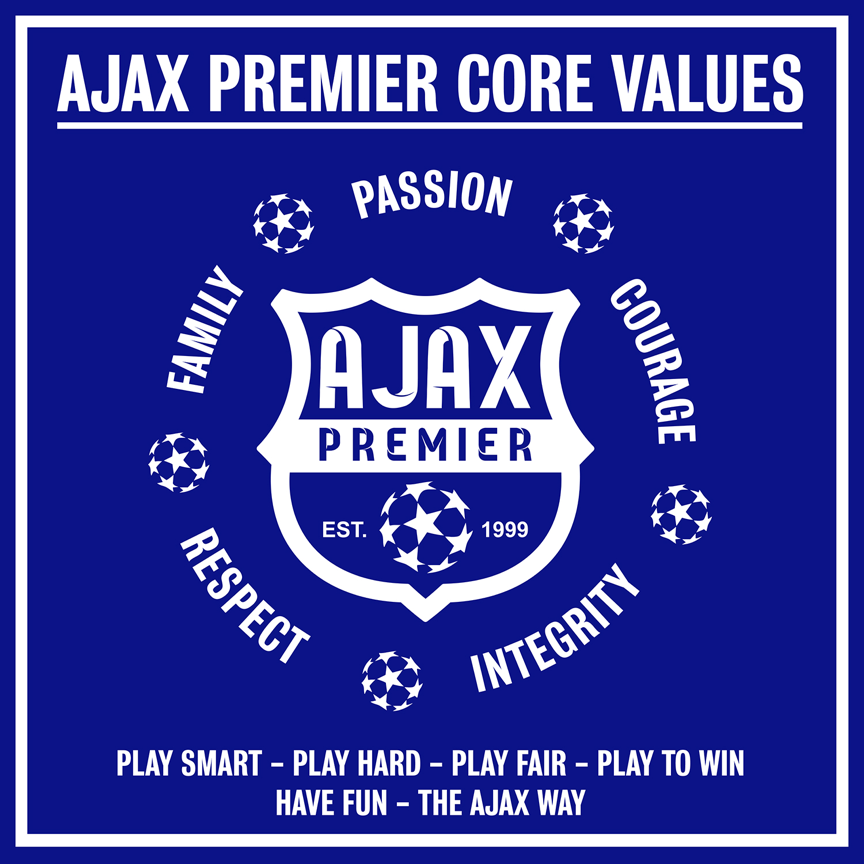 FAMILY
We strive to work together by supporting one another, openly communicating, and being someone, each player can trust and depend on. We enjoy the process of developing players, making memories, and providing each player with the skills which will allow them to be successful in their lives outside of the sport.
COURAGE
We believe each player should have the self-confidence to play with courage each time they step on the field. We want our players to know we believe in them and they too should believe in themselves. Each player should have the confidence to be creative and practice good habits which over time will become second nature while playing. It is important each AJAX player stands out when they play.
INTEGRITY
Each member of the club is expected to do the right thing a 100% of the time. We must all believe in doing the right thing not only when someone is watching but most of all in the times when we are alone. Staying true to your morals and values and being honest even in the most difficult of times. When we take off the AJAX shirt, our actions are still a representation of the club no matter where one may be.
PASSION
Our objective as a club is to have our coaches pass along their passion, knowledge and love for the game to each new generation. The player that has a pure love for the game, will have the most fun and success.
It is our goal to help grow the player's love for the game.
We are always looking to encourage the players to play and grow as wholesome individuals.
We want to make sure each person's passion for the game continues for many years after they finish playing.
RESPECT
Treat people the way you would like to be treated. We must respect each other and most importantly ourselves. We must respect the club, the staff members, our teammates, our family members, the facilities, the opponents, and the referees. We must be willing to be selfless and offer our kindness, support and respect each other no matter the circumstances. 
PLAY HARD – PLAY SMART – PLAY FAIR – PLAY TO WIN – HAVE FUN – THE AJAX WAY
AJAX ALUMNI
See where some of the AJAX PREMIER Alumni are now!
Location
25 North Street
Bristol, CT 06010
Hours
Monday-Sunday
5:00pm-10:00pm
After Hours Contact
Alexander Wrona
860 - 751 - 2652
alex@wronasoccer.com